Our Books

This is what it's all about, of course. The books.

The folks upstairs at "Corporate" (a.k.a. The Chow Network) don't seem to be in any rush to let us get these things to market. They're keeping us busy with our own personal shows (which admittedly take a lot of time & preparation), promotional appearances and talk shows and magazine photo spreads and tie-ins with dog-food and dog-product manufacturers. Not that we ever get to travel anywhere. (And not that we're complaining, either. But it would be nice to either have some time off or at least visit John in his mountaintop mansion in Aspen once in a while.)

But we'd really like to get the books finished. We really would.

Here's the lineup:

PASTRY FOR POODLES -- by Chef Fifi LeFay

BARBEQUE FOR BULLDOGS -- Chef Butch Waddles

SPAGHETTI FOR SHEEPDOGS -- Chef Mona Lassie Buonarroti

TEX-MEX FOR TERRIERS -- Chef Terry Scraps

KUNG PAO FOR PEKINGESE -- Chef Suzie Snow Peas

SEAFOOD FOR SCHNAUZERS -- Barnacle Bill Barker

LEFTOVERS FOR LABS -- Chef Maggie Scroungehound

RISKY DISHES FOR RESCUE DOGS -- Howie "Homeboy" MacScruff

We really can't wait to get these books published, so you can get your paws on them and get cracking in the kitchen!

They'll be available on Amazon, in print and in ebook format, and at fine bookstores and cook shops everywhere. All over the planet, our people tell us. (We hope they're not just saying that. What happens if we get to a bakery in Beirut or a deli in Dublin or a sub shop in Singapore and they're not there? Are we supposed to lug a trunkful of books with us wherever we go? It's tough enough schlepping our own cooking gear everywhere.)

Anyway, you'll love the recipes we've got for you! All the little tips and helpful hints that you've come to expect from watching our shows! And there'll be full-color photos, stunning author photos... What more could you want? We'd come over and help test out your creations-- the instructions are so easy to follow that we know they'll be great-- but you've got enough friends to invite over and impress! We'd just be in the way.

So keep checking this website for news of when we actually manage to RELEASE these darned things! It should be any day now! (More likely, any month now, but they'll be worth the wait!)

---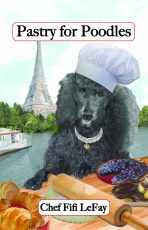 Here's Book Number One! Parisian born-and-bred Chef Fifi LeFay's Pastry for Poodles.

And these are just the first three recipes:

"Fresh Blueberry Tart with a Tease."
Hear about Madame de Pompadour and King Louis XV, her Pomeranian lapdog, and what happened with a lingonberry tart.

"Rum/Vanilla Madeleines."
A nod to Marcel Proust's grand-mere and the wondrous days of Combray.

"Brie en Croute with garnishes."
What exactly did Napoleon's dashing young cavalry officers eat on the morning of the Battle of Waterloo?

Can you even wait til the book gets to your door? You'll have to! But when it does, you can join Fifi and learn how to re-create the glory of French baking! It'll be worth the wait!

---
---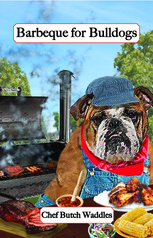 Book Number Two: Butch Waddles' Barbeque for Bulldogs.

And seeing as how we listed 3 recipes from Fifi's pastry opus, here's 3 items to feast your imagination with: (we hope you're not too hungry!)

"Butch's Died-and-Gone-to-Heaven Backyard Ribs."

"Drippin' Chicken with Butch's Surprise White Barbeque Sauce."

"Granny's Lemon Cool Whip and Crunchies Pie."

Butch is convinced that his book is far superior to Fifi's (though we haven't said anything to her about it. We don't want to set off an international firestorm. The French and us are supposed to be friends.

But he did want us to point out that basically everything in his book is in English. Which he feels automatically makes it more user-friendly. (The "user," in this case, being you, after you've had the good sense to buy a copy. Or two.)

Of course, we'd strongly suggest helping us to avert an international crisis by buying BOTH BOOKS. At least one copy.

One thing we can guarantee: You've never had brisket as mouth-watering as Butch's, and you sure don't want to miss out on how to cook up his world-famous "Better-Than-Bottled" Red Sauce!

---
---
Book Number Three: Mona Lassie Buonarroti's Spaghetti for Sheepdogs.

Mona Lassie's almost lost track of how many grandpups she has, but they light up her life whenever they're around. And the one thing she knows they'll be needing, whenever they're close underfoot, is GOOD FOOD!

So here's a sample of some of the recipes you'll find in her book, dishes she knows her own grandpups never get tired of:

"Bruno's Firehouse Favorite: Baked Rigatoni & Baby Meatballs."

"Nonna Mona's Luscious Lasagne: Vegetable Medley della Modena."

"Mona Lassie's Rotini Salad: Shrimp & Parsley Delight."

Don't you wish you were going over to her house tonight for dinner? Well, the next best thing is visiting her tomorrow, when you and she can cook up a storm-- just the two of you-- and she can introduce you to all sorts of wonderful Italian flavors and scents! There's even a gelato recipe to round things out!

---
---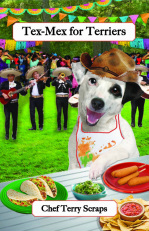 Book Number Four: Terry Scraps' Tex-Mex for Terriers.

Want to heat things up in your kitchen? Invite Texas born-and-bred Chef Terry Scraps over for dinner tonight! Crank up some serious Tejano music, put on your best white shirt, and by all means, open up some windows!

Here's a sampling of what's on the menu, but a word of warning: You'd better have plenty of cold beer on hand when you try them. We actually ran out-- more than once-- when we were testing these delightful recipes! Imagine how tasty these offerings will be:

"El Paso Enchiladas Verdes."

"San Diego or San Antonio? Fantastic Fish-Stick Fajitas."

"Terry's 'Easy-Does-It' Tamales."

And if you've never had a skirt-spinning dance party in your living room before, another word of warning: Move the furniture outside! Or better yet, move the whole party outside! And invite the neighbors! Fiesta!

---
---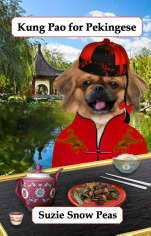 Book Number Five: Suzie Snow Peas' Kung Pao for Pekingese.

Young Chef Suzie would like to re-energize your repertoire by introducing you to some delicious (and some might say exotic) dishes you can cook up in a single wok. Sure, they'll look and taste marvelous when you set them out for your guests, but you won't have to find a specialty Chinese food store or spend all day in a hot kitchen to prepare these fun-tasting (and even fun-sounding) masterpieces of the ancient art of the Orient. Just listen to these entrees:

"Logs Rolling Down River of Happiness." Spring rolls with dipping sauces.

"Stopping at Doorway in Strange Country." Kung Pao shrimp - Shanghai.

"Unexpected Gifts from Heaven." Sichuan chicken with cashews.

If you're like us, you'll come away thinking that Suzie's the unexpected gift from heaven!

And one of the things she'll teach you is: When you're traveling in a strange country, one of the best ways to make new friends is to cook them dinner!

---
---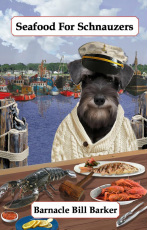 Book Number Six: Barnacle Bill Barker's Seafood for Schnauzers.

Like most of the boys in the Barker family of New Bedford, young Billy answered the call of the sea almost before he could growl. And as much as he enjoys the pleasures of his home port (or any port, for that matter!), he gets an even bigger kick out of introducing fellow canines to the delights of the deep. "Face it," he writes in his introduction, "we dogs don't eat enough fish."

And he'd like to change that. So come along on a cruise-n-catch, cruise-n-cook extravaganza you won't soon forget! Here's a few samples of the recipes you can create in any galley, or even in your own kitchen (if you're a life-long landlubber):

"Salty Dog Supremes." Sautéed Maryland carb cakes.

"Forrest Gump Lives!" Shrimp gumbo with oysters and crab.

"Bring On The Hula Girls!" Teriyaki tuna with pineapple and toast.

Sound like an interesting voyage? Even if you're afraid of the water (and we wouldn't blame you for being a little skittish around lobsters), Barnacle Bill will welcome you aboard and set your sails a-right. You'll learn soon enough, a brief guided tour out to sea will be well-rewarded!

---
---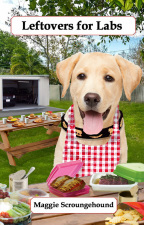 Book Number Seven: Chef Maggie Scroungehound's Leftovers for Labs.

Labs have always gotten a bad rap. People think they'll eat anything.

And that's true, but it's not the whole story. What's required is style. Panache. (And gusto, of course, but that's never been a problem.)

Chef Maggie would like to show you how you can enjoy damned-near anything left unguarded, forgotten, or misplaced (and she does mean anything), without having to sneak around, hide in the shadows, feel constantly on-guard and guilty.

There's an art to stealing food-- and to preparing it. So let Chef Maggie show you the way.

How do these sound?

"Maggie's (Purloined) Plumpty-Dumpty Backyard Tube Steaks."

"Yesterday's Macaroni & Cheese Salmon Surprise."

"The They-Didn't-Have-Time-To-Clean-Up-Before-They-Left Breakfast Buffet."

You're a beloved member of the family, aren't you? So stop acting (and feeling) like some sort of 2nd-class citizen! Stand up for your rights! If nobody else is going to eat whatever's left-over from last night's blow-out barbeque or fondue fiesta, why shouldn't you get a whack at it?

You're a Lab! You're a veritable re-cycling machine! So get with the program! Learn how to take advantage of "opportunities," and how to give "rejects" a sensational second chance at dinner-table stardom!

---
---
And our last in the series: Book Number Eight: Howie "Homeboy" MacScruff's Risky Dishes for Rescue Dogs.

You may have had "The List" posted on the wall above your food bowl when you were a puppy. (We did.) All the things you weren't supposed to eat. And there's good reason to trust vets when they worry about our health. (Heck, we've posted the same "List" in some of our books, including this one.)

But Howie's a reformed street dog himself, and he's survived a lot in his young life, and he doesn't want you to miss out on some of life's truly wonderful foods, simply because eating too much of a good thing might hurt you.

So he'd like to introduce you to some "off-limits" delights, and show you how-- with a little moderation-- you can enjoy them, too. Just imagine once-upon-a-time totally "paws-off" offerings like these:

"My Cousin Vinny's Deep-Dish Pizza."

"Philadelphia Freddy's Quickie Cheese Steak."

"Down and Out in Little Tokyo."

All these and a lot more. Stuff you've been trained to be afraid of, but Howie will show you how to enjoy them sensibly.

You don't have to run away from home, just to run with the right crowd. Pick up Howie's scent, pick up a copy of this wonderful cookbook, and join the "in crowd." The "in-the-know" crowd. You'll love every sinful bite!

---
*