About Us

Needless to say, we are The Canine Cuisine Team. The stars of The Chow TV Network.

Stars in our own right, individually, of course, but also thrilled (thrilled!) to be one big happy team as well!

You've undoubtedly seen us on TCN with our "fantastically-fun and fully-informative" cooking shows, as well as just about every talk show and roundtable there is. On legitimate channels, of course, like ABC and NBC and Oprah and Animal Planet (duh) and Lifetime and The Disney Channel. (But we're not about to patronize any of those sleazy, fly-by-night cable operators who are always trying to sell you something.) We're here to impart Knowledge. Technique. Friendship, and Fun... Hey, maybe we should change our motto!... Wait... We don't have a motto.... Maybe we should run a contest. See if anyone can beat:

"Knowledge, Technique, Friendship, and Fun."

Hard to imagine anyone doing better than that. Anyway...

The main reason we've got this website is to (shamelessly) promote our books. Our cookbooks.

You've seen us (shamelessly) hawking them on our shows. You've seen us (shamelessly) hawking them on other people's shows. Maybe you've met us at a book signing somewhere. Well NOW (obviously) we've got a website, so we can (shamelessly) hawk them HERE.

But really, it's not about the money. We're here to HAVE FUN. Isn't that what good food and good company are all about?

So just in case you've been living in a cave lately, let's introduce everybody. Real quick.

---
We'll get started with Fifi. (Of course. Fifi always gets to go first.)

Chef Fifi LeFay. Born in Paris. Lives in Paris. Can't imagine living anywhere else.

Tapes her TV show "It's Not All Heavy Cream" in the Paris suburb of Neuilly-sur-Seine. Doesn't even mind the commute. Apparently French fumes smell better than American ones.

Wrote her wonderful new book PASTRY FOR POODLES at the express request of The Folks Upstairs at The Chow Network. Tailored it specifically for her devoted viewers, but you can buy it and enjoy it even if you don't watch her too often.

Biggest challenge: She says winnowing the book down to 6 recipes was hard. "I would've included more, but a girl likes to have her secrets."

---
---

Next up would be Big Butch Waddles, who's preparing BARBEQUE FOR BULLDOGS as you read this.

Son of legendary pit king Clarence "Bull" Waddles, Butch is President of the South Georgia Hickory-Pit Cookhounds, and has earned lifetime achievement awards from both the Memphis Guard-Dogs of the Smokehouse and the Charlotte Litter of Inglorious Basters.

You can catch his weekly TV show "Barking for Barbeque" on The Chow Network (naturally), and he also has a nationally syndicated Saturday-morning radio call-in show, "Tell The Neighbors They Can bring Pie!"

If dishes like "Died-and-Gone-to-Heaven Backyard Ribs" and "Drippin' Chicken" get your mouth a-droolin', you won't want to miss his book when it comes out. He's even included his up-til-now-top-secret "Granny's Lemon-Pudding Cool-Whip and Crunchies Pie." Mm, mm, good!

---
---

Our third chef is definitely someone you'd want to come home to. There's always an extra place at Mona Lassie Buonarroti's table. As long as you can put up with the racket a dozen or so grand-pups are likely to make.

Chef Mona met her husband Bruno, a dashing dalmation with a reputation for adventure, at the firehouse on Canal Street in New York, and if Bruno hadn't swept her off her paws, a hundred other fire-dogs would've lined up to take their chances. If only for her cooking. Mama Mia, can she cook!

You'll find that out for yourself when you sample the recipes on SPAGHETTI FOR SHEEPDOGS. We're not even going to tell you what they are. We don't have to. Whatever she cooks up is always bellissimo!

All right. We'll give you one. Imagine this: "Nonna Mona's Luscious Lasgne, Vegetable Medley della Modena." Makes your mouth water just hearing it, doesn't it? Like listening to a beautiful Verdi aria. It simply has to be good!

---
---

Nobody ever heard Laredo-born Chef Terry Scraps whine that it's too hot in the kitchen. He's more likely to say, "Heck, if you think it's too hot in here, just wait til you put this in your mouth!"

His new book TEX-MEX FOR TERRIERS manages to meld the best of Tex and the best of Mex, then sprinkling on a healthy dose of the good-natured tenacity of a terror who absolutely refuses to turn down the heat.

But you'll soon discover: It's not just about "hot." Sure, most uninitiated pups are timid around tamales, frightened by frijoles, but Jefe Terry will show you that there's more to a "hot meal" than smoke coming out your ears and blisters on your tongue.

Ask any senorita in the Southland. Terry's by far the best-- Oops. We weren't supposed to talk about his other skills.

Leave it this way: Terry's by far the best guide you'll ever find to the tastes and smells of traditional border cooking. Join him for a colorful and laughs-a-minute introduction to one of the world's great under-appreciated cuisines.

---
---

Not done yet? Not by a long shot. Volume 5, KUNG PAO FOR PEKINGESE, introduces Chef Suzie Snow Peas, "the Peke of Excitement" who's always on the run. Always traveling, always learning new things, always hoping to share her discoveries with her many new and old friends.

One thing she'll definitely pass on to you, a lesson she learned long ago from her beloved Ah Paw (most-respected grandmother): The best way to make new friends is to cook them a meal! Ideally, something totally fantastic! Like the meals Suzie herself makes!

And that's what Suzie wants to do for you: teach you how to make her utterly delicious and fragrant dishes!

She'll show you how to whip up a meal with a single wok on a single burner, with ingredients you can find at any corner grocery or farmers' market. Cooking Chinese doesn't have to be a chore. In fact, it should always be a delight!

Suzie's KUNG PAO FOR PEKINGESE is one more reason to remember: The Chinese word for "noodles" is FUN!

---
---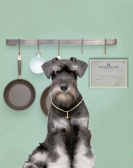 SEAFOOD FOR SCHNAUZERS is our entree into the world of... well, seafood! We couldn't leave that out! Look at it this way: 80% of the dogs on this planet live within an easy walk to a fish market. Who'd want to ignore a major food resource like that?

So we we enlisted the old salty dog himself, Barnacle Bill Barker. Grabbed him while he was in port waiting out a nor'easter. (Or was he just charming some of the ladies on the Widows' Walk up in Gloucester?)

Whatever. Luckily for us, he was glad to help out. In fact, he was the first to point out:

"We dogs don't eat enough fish. Sure, we know it's good for us, but what are our choices? Canned salmon and sawdust filler? Dry catfish and bone meal?"

So he set out to set you straight. With recipes that've been proven by generations of sea-roving dogs, you'll learn how fun and easy it is to scramble up a mess of great grub. We bet you'll never settle for a day-old pork chop again. You might even decide to run away to the Sea yourself!

But even if you stay home, you'll relish the tasty dishes you'll find in Barnacle Bill's galley of goodies! Don't miss your chance to savor the catch of the day!

---
---
So what do you do with all that stuff turning green in the back of the fridge? Greyish-and-greasy meat loaf? 10-day-old dried-out turkey? Plotchy potatoes, listless lasagna?

Whatever you do, don't throw it away! Grab your copy of LEFTOVERS FOR LABS and let Chef Maggie Scroungehound teach you how to turn "Tupperware Trash" into a feast to remember!

There's never a good reason to toss something, just because you're out of ideas. That's precisely when the fun begins!

So take heart! Take that moldy mess out of the fridge, and make yourself a meal! If you're a tried-and-true Lab, whether a Black or a Brown, a Yellow or a mix, you know you can't let opportunities slip away.

Remember the Labrador Creed: "Don't leave it! Retrieve it!"

---
---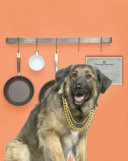 And last but certainly not least, if you need some muscle in a back-alley rumble or you're scramming from an animal-control sweep, Howie "Homeboy" MacScruff's got your back. His new RISKY DISHES FOR RESCUE DOGS is an absolute "must" for any pooch on the prowl.

You've all heard "The Rules": "Don't eat this; don't eat that." Onions are bad for you. So are eggs and raisins and ice cream. Pretty much anything tasty you can think of.

Well, Howie will tell you to take all those rules... with a grain of salt. Or a hunk of chocolate. With maybe a few macadamia nuts, too. (And as Howie would say," What's a cocktail or two between friends?")

The first bit of wisdom he'd like to share is: "Don't take life for granted!" And the second is: "Don't be afraid to take chances!"

Sure, living on the streets can be scary, but that doesn't mean you have to go hungry! And if you have an appetite for something on the "forbidden list," follow Howie and find out how to try it safely. That's what it's all about: safety. You want to act responsibly, but you don't want to go through life being a scaredy-cat.

As Howie is fond of saying: "You only live twice!"

---
*